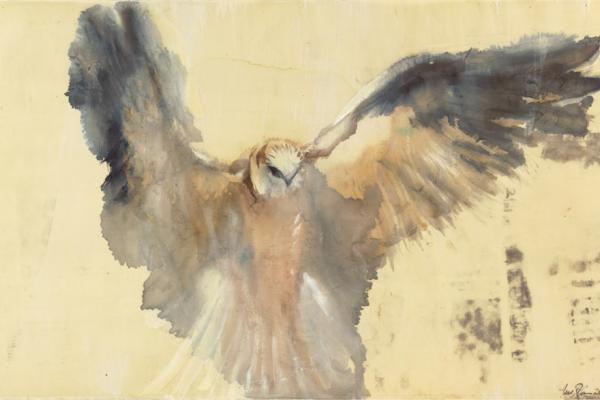 Birds
Exhibition dates
June 5 - September 4, 2022
Paintings by Andrea Johnson, Mari Kloeppel, and David Ligare, sculpture by Jane Rosen, Gwynn Murrill, and Nick Lamb, ceramics by Annette Corcoran, and lots more.
Birds inhabit the sky freely in a way that humans never can. Their ability to fly imbues them with a kind of freedom that captures our imagination. Mythic tales of birds as omens or messengers, or endowed with supernatural qualities or attributes, can be found in every culture. The dove is pure, the eagle is mighty, the crane brings good fortune, while the raven is a trickster or a harbinger of death, and the owl is ominous or wise, depending on your point of view. Fantastic creatures of mysterious origins include winged dragons, the eternally reborn phoenix, and the half lion-half eagle griffin, all with bird-like attributes.
Because of their symbolic meaning, abundance, and diversity, birds have always found a place in the artistic visual vocabulary, decorating personal adornment, pottery, illuminated manuscripts, as a symbol in heraldry, and more. The 18th century naturalist John James Audubon did much to bring the grace and beauty of the species to public attention. The infinite variety of their colorful feathers and eggs, the intricate functionality of their nests, and their melodious songs (not to mention their surprising mimicry and speech), makes birds of all kinds a fascinating artistic subject.
--Helaine Glick, Independent Curator