Featured image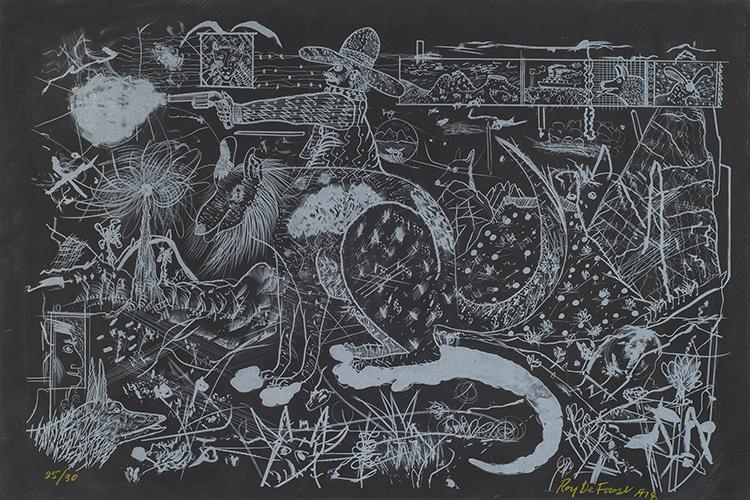 Born in North Platte, Nebraska in 1930, Roy De Forest grew up in Yakima, Washington and attended junior college there. In 1950, he moved to California to study at the California School of Fine Arts (now the San Francisco Art Institute), where he studied with Ed Corbett and Elmer Bischoff and earned a BA in 1953. After serving in the US Army, De Forest studied at San Francisco State College (Now San Francisco State University), where he received his MA in 1958.
In the 60's, De Forest joined the University of California, Davis faculty, which included William T. Wiley and Robert Arneson, and, with them, became a major participant in the "Funk" art movement. Using bizarre shapes and figures, he rejected the reductive nature of minimalism, and embraced complexity in the spirit of independence and irreverence. It was at this time that his paintings, drawings, and prints evolved into the brilliantly patterned mystical geographies, through which romped his signature dogs, wandering semi-humans and phantasmagoric traveling beasts. These visually compelling canvasses filled larger and more dazzling spaces with gleeful, self-reverent, yet serious and sophisticated images. As De Forest's work grew more recognizable, the origins and relationships between such grew more personal, suggestive of dream worlds and developing personal mythologies.
De Forest exhibited widely during his lifetime, enjoying success on both the east and west coasts. In 1974, the Oakland Museum of California organized De Forest's first major retrospective and another, posthumously in 2017. He was the recipient of several major grants and awards, a few notable ones being the National Endowment for the Arts Fellowship in 1972 and an honorary doctorate from the San Francisco Art Institute in 1983. His work lives on in major public collections internationally, including the San Francisco Museum of Modern Art; the Whitney Museum of American Art, New York; the Art Institute of Chicago; the Honolulu Museum of Art; the Philadelphia Art Museum; the Smithsonian American Art Museum, Washington, DC; Virginia Museum of Fine Arts, Richmond; and the Centre Georges Pompidou, Paris, France.
Credit:  John Natsoulas Center for the Arts